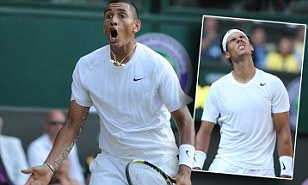 I am sure you all are aware of the spectacular victory posted by Nick Kyrgis with his victory against the Clay Court King Rafa Nadal. A feat like this was done by Rafa himself when he was seventeen and defeated the world No.1 in straight sets, a feat which was considered almost impossible till it was done.
Once it was done, it was again thought that such a feat could not be repeated again, not until Kyrgis did it again after 9 years and became another teenager to defeat the world No.1.
We live in a world of possibilities, where anything can happen and anything should happen. I know you guys are gearing for the exams and I do understand that the challenge seems hard, but I am sure it can't be harder than this!
You've got to believe you can win the match from the start

said Nick after the match
Needless to say how it can relate to the exams and the challenges you are taking. But it doesn't take away the shine from the reality which says – "You got to believe you can make it through"..
More such gems from Nick below:
.
.