December 18, 2013
NATIONAL
Provisions of Lokpal and Lokayukta Bill, 2013
The Lokpal and Lokayukta Bill, 2013 seeks to establish the institution of Lokpal at the Centre and Lokayukta at the States which would provide a uniform vigilance and anti-corruption mechanism across the country.
Jurisdiction of Lokpal with respect to Prime Minister:
The jurisdiction of the Lokpal will 'include' the Prime Minister 'except' on allegations of corruption relating to international relations, security, the public order, atomic energy and space and unless a Full Bench of the Lokpal and at least two-thirds of members approve an inquiry. It will be held in-camera and if the Lokpal so desires, the records of the inquiry will not be published or made available to anyone.
With respect to Ministers, MP's, Officials:
The Lokpal will also have jurisdiction over Ministers and MPs but not in the matter of anything said in Parliament or a vote given there. Group A, B, C or D officers defined as such under the Prevention of Corruption Act, 1988 will be covered under the Lokpal but any corruption complaint against Group A and B officers, after inquiry, will come to the Lokpal. However, in the case of Group C and D officers, the Chief Vigilance Commissioner will investigate and report to the Lokpal.
If the Lokpal decides to proceed on any complaint, it can order a preliminary inquiry against any public servant by its Inquiry Wing or any agency, including the CBI, to ascertain if there is a prima facie case, and the public servant will be given an opportunity of being heard.
The Lokpal will have powers of superintendence over cases referred by it to the CBI. Any officer of the CBI investigating a case referred to it by the Lokpal will not be transferred without its approval. The Centre will fund the CBI investigations into the matters referred to it by the Lokpal.
With regard to CBI:
There will be a Directorate of Prosecution under the CBI headed by a Director. The CBI Director will be appointed by a collegium comprising the Prime Minister, the Leader of the Opposition and the Chief Justice of India. The Prosecution Director will be appointed on the recommendation of the Central Vigilance Commission (CVC) for a two-year tenure.
Composition of Lokpal:
The Bill provides for the Lokpal comprising a chairperson and a maximum of eight members, of whom 50% will be judicial members and the rest from amongst the SC, the ST, the OBCs, minorities and women. Apart from the Inquiry Wing, there will be an independent Prosecution Wing of the Lokpal.
Method of Appointment/Selection, term:
The selection of the Lokpal will be done through a committee comprising the Prime Minister, the Speaker and the Leader of the Opposition in the Lok Sabha, the Chief Justice of India or an apex court judge nominated by him and an eminent jurist as recommended by the chairperson and members to be nominated by the President.
The Selection Committee will constitute a search panel of seven persons of eminence for assisting it.
The term of the Lokpal will be five years or till the chairman and members turn 75.
The Bill does not provide for protection to whistle-blowers, for which a separate law shall be enacted. There will be separate laws on a Citizens' Charter and Judicial Accountability.
Mind- Mapping:
Should the Prime Minister come under the ambit of Lokpal? If no/yes, then what impact would it have?
Should the CBI be made an autonomous body? What is its present status?
What according to you is lacking in the present Lokpal Bill? Provide Suggestions/Solutions for the same.
If the Lokpal Bill is implemented, what would be the roles of Lokpal, CVC, CBI?
Do you think the lokpal is overburdened considering the fact that it inquires MPs and all the government servants from top to the lower level? Is lokpal a threat to the balance of power demarcated in our constitution? 
Changes in MGNREGA program
Significant changes has been made to the governments flagship MGNREGA programme seeking to ensure permanent and durable asset creation and an introduction of a penalty for delayed wage payments.

More specifically, the changes include Rs 10,000 (earlier it was 4500) for the construction of toilets for all job card holders (APL & BPL) and assistance for buildings for women self-help federations.
Addressing the persistent issue of delay in distributing wage payment to MGNREGA workers, the government has announced compensation for them if it is delayed beyond 15 days and the amount would be deducted from officials responsible for it. Andhra Pradesh has already started to implement this. Additionally, wage payments will be made exclusively on the basis of measurement of work done instead of solely attendance
(Three objectives of NREGA. First to provide wage employment, second is to create durable community assets and third to empower gram panchayats.)
Contribution of MGNREGA:
In constructing houses for the poor in convergence with Indira Awas Yojana or any other state rural housing scheme, buildings for women self-help federations operating in village or block levels, community storage facilities at gram panchayat or women SHG levels for agriculture produce and centres for manufacturing building materials like bricks in gram panchayats.
Future prospects: The biggest contribution of NREGA for agriculture would be if small and marginalized farmers use the scheme to improve the quality and productivity of their farmland. This could lead to a potential "agricultural revolution".
To know more about MGNREGA, refer our previous 'Current Events'
Mind-Mapping:
What is the objective MGNREGA program? Has it achieved its objective? If not what are the reasons for its failure? Suggestions/ solutions to overcome such issues.
What are the positive achievements of the program?
Government is coming up with so many programs and schemes for the welfare of the people, there is bound to be overlap in some of the programs. DO you think such programs should be converged? If so which are the programs that needs to converged and why?
India, Pak DGMOs to meet on Dec. 24, 2013
The Director-General Military Operations (DGMO) of Pakistan has invited his Indian counterpart for a meeting to strengthen the mechanism to ensure ceasefire on the Line of Control (LoC)
This would reduce tensions on the LoC, which had seen repeated violations.
Mind-Mapping:
Significance of the DGMOs meet? Reasons for ceasefire violations?
What are the other measures taken by the two countries to reduce tensions on the LoC ((say by improving trade, celebrating festivals, integrated check posts etc)? What are your views, how can this issue be solved?

Pakistan military's role in establishing friendly relations with India. Role of U.S in pacifying Indo-Pak relations.
[Indigenization: Health Sector]
A cheaper kit to diagnose thalassemia
India has launched a low-cost, indigenously-manufactured Thalassemia and Sickle Cell diagnostic kit that will simplify the identification of seven common beta-thalassemia mutations and two common abnormal haemoglobins common in India. This kit is tailor-made for the Indian population and can also be used for screening.
The kit would cost approximately Rs 400 and would be made available in the public health facilities up to district levels. It is expected to bring down the prices of the test in the open market where it costs up to Rs 15,000.
Mind-Mapping:
What are the benefits of Indigenization in different sectors- education, health, technology, environment, defence etc.? What are the usual hurdles in the way to indigenization?
Does India have the capability to produce more indigenized goods, which is qualitative as well as affordable?
Sahastra Seema Bal: Central Paramilitary force
Nearly 6,000 personnel of the central paramilitary Sahastra Seema Bal (SSB) will soon be deployed for anti-Naxal operations duties in the Left wing extremism-affected areas of the country.
The SSB was withdrawn from these operations in 2011 when it used to be deployed in Chhattisgarh. Now three battalions are deployed in Bihar and Jharkhand alongside other central forces like CRPF, BSF and ITBP.
More about Sahastra Seema Bal (SSB):
SSB is a Border Guarding Force (BGF) under the administrative control of the Ministry of Home Affairs. SSB was set up in early 1963 in the wake of the Indo-China conflict to inculcate feelings of national belonging in the border population and develop their capabilities for resistance through a continuous process of motivation, training, development, welfare programmes and activities in the then NEFA, North Assam, North Bengal, hills of Uttar Pradesh, Himachal Pradesh, and Ladakh. The scheme was later extended to Manipur, Tripura, Rajasthan and Gujarat, Jammu and Kashmir etc.

Pursuant to the recommendations of the Group of Ministers on reforming the National Security System, SSB was declared as a border guarding force and lead intelligence agency (LIA) for Indo-Nepal border (January, 2001) and Indo-Bhutan border( March, 2004)
Role of Sahastra Seema Bal:
To promote sense of security among the people living in the border area

To Prevent trans border crimes and unauthorized entries into   or exit from the territory of India

To prevent smuggling and other illegal activities
Courtesy- http://www.ssb.nic.in
More about Central Paramilitary force
According to the official definition adopted in 2011, "Paramilitary Forces" refers to three organisations which assist the Indian Armed Forces particularly closely and are led by officers of the Indian Army or Indian Navy. They are:

Assam Rifles ; Special Frontier Force (SFF); Indian Coast Guard; Central Reserve Police Force (CRPF) ; Border Security Force (BSF) ; Indo Tibetan Border Police Force (ITBP) ; Central Industrial Security Force (CISF)
Courtesy- Wikipedia
INTERNATIONAL
Tensions rise as U.S. moves missile interceptor batteries to Guam
The probability of a nuclear exchange between North Korea and other nations including the U.S. has increased further after Pentagon (U.S military institution). has announced that it would be mobilising ground-based THAAD missile-interceptor batteries (The THAAD system includes a truck-mounted launcher and interceptor missiles) to protect its military bases on Guam, a U.S. territory located 3,380 km southeast of North Korea and home to 6,000 American military personnel, submarines and bombers.
The move has been condemned by North Korea has U.S. aggression and has warned that a war could break out 'today or tomorrow'.
However, Pentagon has argued that its deployment would only strengthen U.S. regional defence posture against the North Korean regional ballistic missile threat.
The North Korean military cautioned that it had received final approval for military action against the U.S., particularly responding to what it called the 'provocative U.S. use of nuclear-capable B-52 and B-2 stealth bombers in ongoing war games with South Korea.'
Even U.S. Defence Secretary has declared that North Korea posed "a real and clear danger" to South Korea, Japan and America, and it is allegedly that the untested North Korean Musudan missile had a theoretical range of 3,000 km and this could put all of South Korea and Japan within its reach.
North Korea, meanwhile has held firm to its blockade of the South from the Kaesong factory park run, which both nations operate jointly.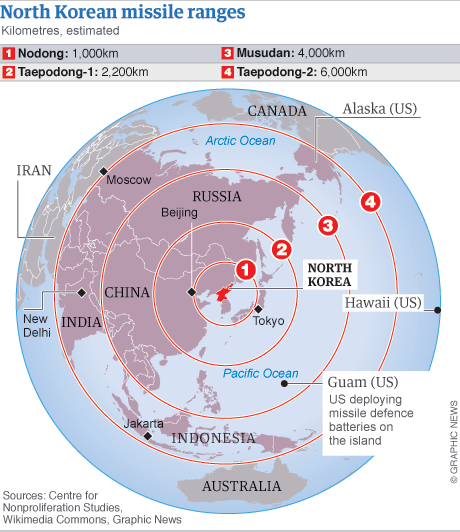 Courtesy – http://i.i.cbsi.com/cnwk.1d/i/tim/2013/04/03/map_asia_korea_guam_620x_1.jpg (image 1)
Related Information:
Background:              
Guam was ceded to the US by Spain in 1898. Captured by the Japanese in 1941, it was retaken by the US three years later. The military installation on the island is one of the most strategically important US bases in the Pacific. 

Location: Oceania, island in the North Pacific Ocean, about three-quarters of the way from Hawaii to the Philippines. Guam is the largest and southernmost island in the Marianas Archipelago.

Today Guam is an unincorporated, organized territory of the United States. The people of Guam have been U.S. citizens since 1950.

Guam's economy is based on tourism and U.S. military spending (U.S. naval and air force bases occupy one-third of the land on Guam).
Courtesy- http://geography.about.com/library/cia/blcusgu.htm
Courtesy-  http://www.infoplease.com/country/guam.html
Mind-Mapping:
Identification in the map of all the places in the region (North Korea, South Korea, Guam etc).Ill effects these confrontations might cause in the region.

Indian view point of the growing tensions in the region, Indian interests in the region and with the countries involved. Example for US intrusionist tendencies in Asian conflicts.
Russia to give logistics support for Syria weapons transfer
Russia has decided to provide naval escorts to ships ferrying tonnes of material as part of a multinational exercise, involving the United States and its European allies as partners, to destroy Syria's stockpile of chemical weapons.
Russia, which has played a leading role in convincing Syria to shed chemical arms will render its assistance in two stages – Russia will provide material and technical support to first transport chemical agents on land to the Syrian port of Latakia. From the Syrian coast, the stockpile of around 500 tonnes will be moved along ships that are being mainly provided by the EU and then it will be transferred to U.S where the toxic agents would be destroyed in full compliance with all environmental requirements
According to the Pentagon, it would take 45-90 days to neutralise the chemical components used for making mustard gas and Sarin.
Russia had persuaded Syria to destroy its chemical weapons after it was accused in August, 2013 by U.S. and its allies of using Sarin gas against civilians on the outskirts of Damascus.
Russia slashes gas price, to help Ukraine
President Vladimir Putin has come with a plan to buy $15 billion of Ukrainian bonds and slash Kiev's bill (Ukraine) for Russian gas imports, in a boost for President Viktor Yanukovych as he faces a huge protests over a rejected EU pact.
Russia also agreed to remove trade barriers it put up at the start of the year when it seemed that Ukraine was on the verge of signing a historic trade and political association agreement with Brussels that would have pulled it out of Russia's orbit for the first time.
The help from Russia may allow Ukraine to avoid the threat of an imminent balance of payments (BoP) crisis and possible default amid a recession that has seen the economy shrink since the first half of 2012.
 Mind-Mapping:
Strategic importance of Ukraine to Russia and the West.
Russian appeasement of its former USSR satellite states. Strategic Implications of Russian strong hold in the region (Central Asia).
ECONOMICS
RBI outlines action plan to tackle NPAs
The RBI has outlined a corrective action plan to minimise rising non-performing assets (NPAs). The plan would include incentivizing early identification of problem cases, timely restructuring of accounts, which are considered to be viable, and taking prompt steps by banks for recovery or sale of unviable accounts.
Action Plan:
The RBI has said that, it would set up a Central Repository of Information on Large Credits (CRILC) to collect, store, and disseminate credit data to lenders.
Banks will have to furnish credit information to CRILC on all their borrowers having aggregate fund-based and non-fund based exposure of Rs.5 crore and above.
While all scheduled commercial banks will mandatorily contribute their credit information on their borrowers/customers as proposed, the RBI said that systemically important non-banking financial companies (NBFC-SI) would also be asked to furnish such information.
In addition, banks would have to furnish details of all current accounts of their customers with outstanding balance (debit or credit) of Rs.1 crore and above.
The RBI said that before a loan account turns into an NPA, banks should identify incipient stress in the account by creating a new sub-asset category, 'Special Mention Accounts' (SMA). Within the SMA category, there should be three sub-categories: SMA-NF non-financial (NF) signals of incipient stress; SMA-1 principal or interest payment overdue between 31-60 days; SMA-2 principal or interest payment overdue between 61-90 days.
Banks will be required to report, among others, the SMA status of the borrower to the CRILC. Individual banks will have to closely monitor the accounts reported as SMA-1 or SMA-NF as these are the early warning signs of weaknesses in the account. "They should take up the issue with the borrower with a view to rectifying the deficiencies at the earliest."
The RBI also said that reporting of an account as SMA-2 by one or more lending banks/NBFC-SIs will trigger the mandatory formation of a joint lenders' forum (JLF) and formulation of corrective action plan (CAP). Further, with a view to limiting the number of JLFs to be formed, it is proposed that JLF formation would be made mandatory for distressed corporate borrowers, engaged in any type of activity, with aggregate fund based and non-fund based exposure of Rs.100 crore and above.
Regarding NPA, Basel-III norms, asset quality refer to our 'INSIGHTS CURRENT EVENTS ANALYSIS OCTOBER – 2013' MAGAZINE)
Mind-Mapping:
What is Non-Performing Asset? Impact of NPA on the Banking sector and the economy?
Measures/Steps taken by RBI in this regard?
What are Basel norms? Why have these norms been suggested? Has the Basel-III norm implemented in India? What are the pre-requisites to its implementation?